The LugaDuk will make life much more enjoyable for both you and your duck. They love to go with you, but since they can't walk very fast, on hot sidewalks, in crowded places, and are sometimes banned from certain areas, the LugaDuk solves all your problems. It makes a nice little "nest" for your duck at home, in a hotel or visiting. If you take your duckling out in it when it is young, it will look forward to getting in and going. Older ducks should be allowed to investigate it on their own for awhile and get familiar with it, before going for a ride.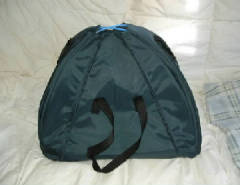 Portholes are in each end so your duck can ride comfortably and see everything, but if when it's best your duck is not seen, ports can be closed with velcro flaps. LugaDuk also makes a great car seat especially when it is young or you don't want it to run around. Ducks like to see everything and the LugaDuk makes it possible. Side pocket with velcro closure holds those all important extra diapers!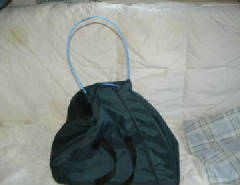 LugaDuk collapses flat easily and quickly by removing the plastic tubes. Tubes can be stored inside. It only takes a few seconds to re-insert tubes and you're ready to go. Choose Small for ducks 4 lbs or under with the exception of the Indian Runner. They are tall so choose large size.
Small - $34.95 Large - $39.95
If I made a LugaDuk tall enough to carry a standing goose, it would be difficult to carry, so a goose must be taught to sit down in it.